About our Center
iScan Diagnostic Center is an outpatient healthcare center specializing in advanced medical imaging services. Our center offers an extensive suite of medical diagnostic imaging services led by a dynamic and patient-focused medical team composed of experienced physicians and well-trained technologists.
Our History
Where we started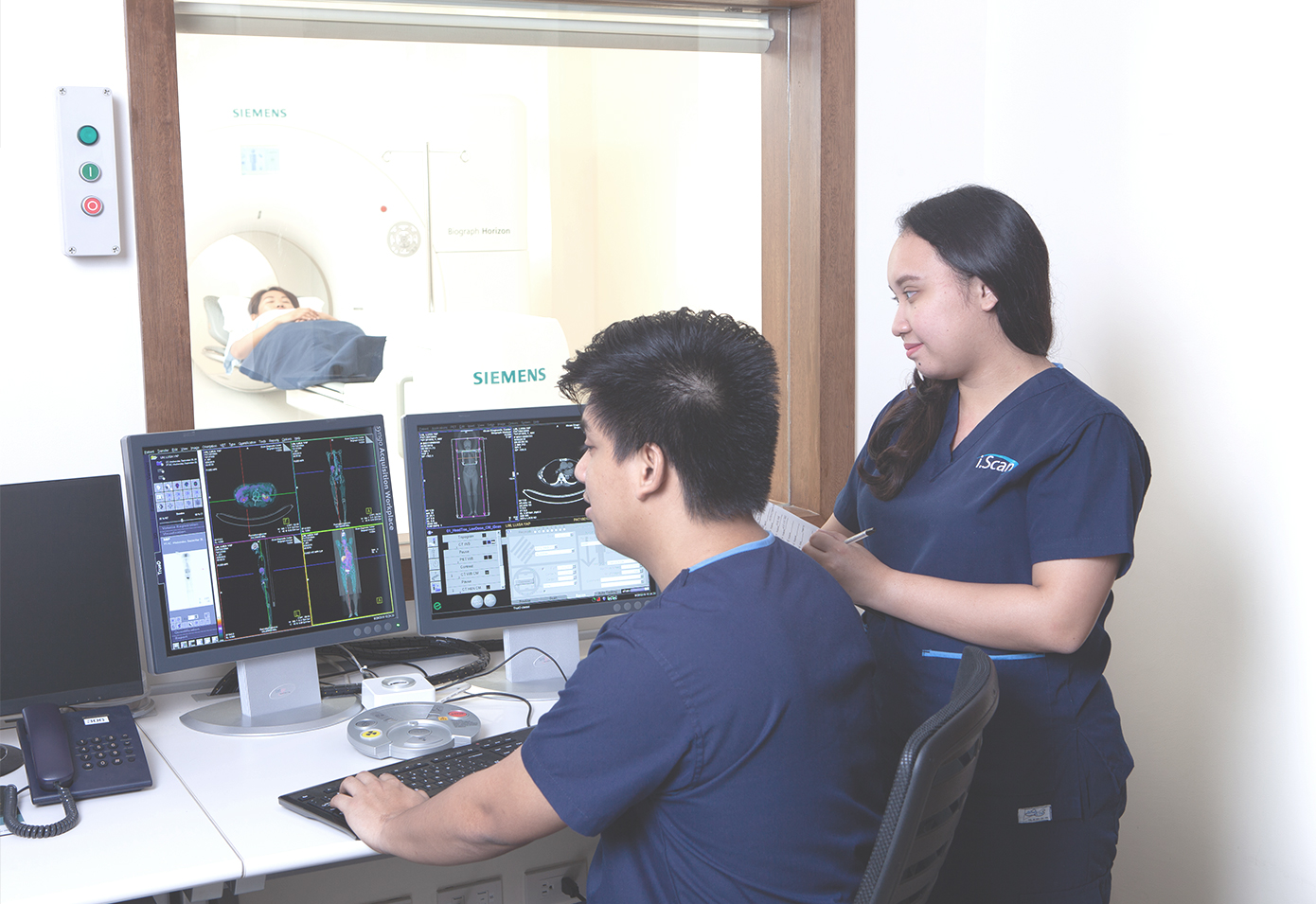 Established in 2003, iScan Diagnostic Center was setup in Quezon City, Metro Manila to provide an affordable alternative for outpatient Computed Tomography.
In March 2013, a new center with upgraded diagnostic imaging equipment was built to improve and expand our services. iScan became the first outpatient diagnostic imaging center in the Philippines to offer an extensive range of advanced diagnostic imaging modalities. We were the first outpatient facility in to install a 1.5T MRI for higher field MR examinations as well as the first outpatient facility to offer Nuclear Imaging services, using Dual Detector Gamma Camera.
In 2015, iScan expanded its foot print in northern Metro Manila, with a new branch in Valenzuela City. In addition, iScan Quezon City upgraded its CT machine to a 128 Slice scanner, the fastest available outpatient CT Scan machine at the time. This new machine enabled much shorter scan times, and allowed the center to expand its services to Coronary CT angiography and CT calcium scoring.
In 2018, iScan underwent a major expansion by opening its 3rd branch in Dimasalang, Manila providing wider availability for outpatient high field 1.5T MRI and fast 128-Slice CT Scan services. In addition, we expanded our Nuclear Medicine and Molecular Imaging portfolio with the installation of the latest PET/CT system in the Philippines. This new machine enables more precise cancer detection and diagnosis via whole body imaging scans.
This complete lineup of diagnostic imaging facilities allows iScan to provide convenient and accessible services to meet outpatient imaging requirements and underscores the company's commitment to provide high quality and compassionate health care services to more Filipino families.
Our Vision
What we believe
Medical Imaging plays a critical role in diagnosis and treatment in 3 key areas
Early Diagnosis
Disease screening, early detection and diagnosis is key to
successful disease management. Medical Imaging has
aided physicians to identify diseases before they reach
much more severe or life-threatening stages
Precise Medicine
Access to medical imaging enables physicians to identify
and understand diseases more accurately. This helps
them to have a better insight to a patient's condition,
allowing them to provide timely and precise medication
Personalized Treatment
Medical imaging enables evidence based decision making that are specific to the patient's disease condition. It helps physicians see whether treatments are working as intended and adapt changes to the treatment if necessary
Our Solution
What we do
Medical Imaging is our core expertise
Innovative Imaging Technologies
Accurate diagnostics are key to proper treatment and care. We use the latest medical imaging technologies to help patients attain better clinical outcomes, in fact we are the only Philippine outpatient center with a complete range of advanced modalities from CT to MRI to SPECT to PET/CT.
Experienced Medical Professionals
We are a team of top doctors, nurses and medical and radiological technicians providing expert and compassionate care. We offer exceptional quality in imaging services and expert clinical readings – both critical requirements in providing patient care and treatment.
Fast and Accurate Results
Managing illness requires urgent attention. We strive to provide next day results for our radiology procedures; for ultrasound procedures, we are able to release the results on the same day of the procedure. All MRI and CT procedures are printed on laser imaging film as a standard.
Diagnostics within Reach
We provide comprehensive and affordable diagnostic services to allow such procedures to be accessible to all our patients. Our rates for all of our diagnostic services are the most competitive in the industry. We are also proud to be a partner of many health care and charity organizations.